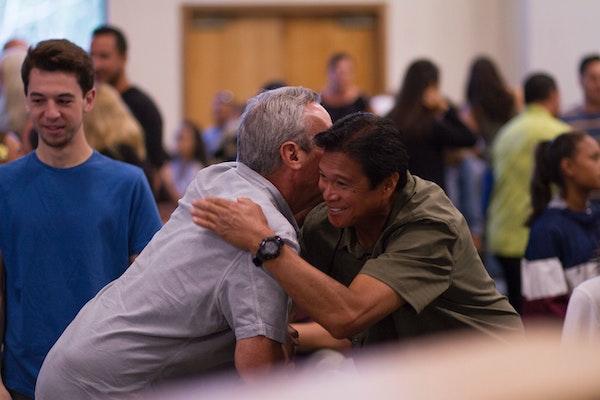 Recovery support is a non-clinical service provided to people who are in or seeking recovery from substance use or mental health challenges. This support generally consists of providing hope, navigating services, reducing barriers, and improving overall health and wellness.
Most recovery support services promote partnering participants with people with lived experience in recovery, known as peers.
The healthcare system has recognized the value of peer support as a best practice and the positive contribution people with lived experience have made in the prevention, treatment, and support of individuals achieving and sustaining long-term recovery from a variety of health conditions.
This page describes addiction recovery support roles. Job titles and descriptions vary across employers. Many require lived experience, but not all. Common peer and non-peer recovery support roles and their characteristics can be found on this Peer Support Worker Chart.  
The most common addiction Recovery Support roles in Massachusetts are:
Peer Recovery Support Roles (require lived experience)
Peer Support Worker –is someone who has been successful in the recovery process and through shared understanding, respect, and mutual empowerment, help others experiencing similar situations become and stay engaged in the recovery process.
Peer Recovery Coach – is a specialized type of Peer Support Worker role which brings lived experience with addiction and recovery, combined with training and supervision, to assist others in initiating and maintaining recovery. Detailed information on Peer Recovery Coaching can be found here.
Certified Addiction Recovery Coach – is a Peer Recovery Coach who has received CARC certification and an RC number from the Massachusetts Board of Substance Abuse Counselor Certification.  Detailed information on CARC can be found here.​
Recovery Support Roles (peer and non-peer)
Recovery Navigator – someone who understands the health system and has knowledge of resources, who assists clients in accessing care and supports.
Recovery Specialist provides support in an addiction recovery program.
SAMHSA defines recovery as "a process of change through which people improve their health and wellness, live self-directed lives, and strive to reach their full potential." Recovery support workers have knowledge of addiction recovery, and skills to support people by addressing dimensions that support recovery such as Health, Home, Purpose and Community.
Supporting recovery requires that addiction and mental health recovery support services:
Be responsive, respectful, and inclusive of diverse people and groups.
Ensure equity in the delivery of services.
Seek to reduce health disparities in access and outcomes.
Recovery Support workers may serve as a:
Mentor, Advocate, System Navigator, Supporter, Community Resource  
Activities may include:
Providing emotional support, demonstrating empathy, concern and hope
Navigating systems with participants
Assisting individuals to accomplish tasks and access resources
Educating and providing linkages to multiple pathways of recovery
Fostering health and resilience to make choices that support well-being.
Providing guidance to build healthy personal relationships and support networks.
Sharing knowledge, information, and access to training to build life or vocational skills.
Linking to community-based recovery supports and social and recreational activities.
Performing outreach and engagement with community providers to form linkages.
Assisting in accessing housing, educational, and employment opportunities
Recovery Support workers are found in a variety of settings and systems, including:
Healthcare System, Criminal Justice System, SUD/MH Treatment, Community Programming, Civil Service, Employee Assistance Programs, Homeless Shelters and Housing Programs, Harm Reduction and Outreach and more
Depending on the role and employer, education requirements vary from high school diploma or equivalency not required, to bachelor's degree preferred.
There are Recovery Support Trainings available to anyone seeking to understand recovery support services, or further enhance their skills in providing them, including:
Addiction and Recovery 101
Advocacy
All Things Recovery
Coaching Skills
Equity, Inclusion and Diversity
Ethical Considerations for Recovery Coaching
Ethics for Recovery Coaches
Medication Supported Recovery (MSR)
Mental Wellness
Motivational Interviewing
Multiple Pathways
Recovery Capital
Recovery Coach Academy
Self-Care
Supervision of Recovery Coaches and other Peer Workers
Recovery-related certifications include:
Certified Addiction Recovery Coach (CARC) – specializes in SUD.
Certified Peer Specialist (CPS) – specializes in Mental Health.
Note: Some individuals seek both certifications to support individuals with co-occurring disorders. 
Recovery Support workers can be or become:
Peer Recovery Coach
Certified Addiction Recovery Coach (CARC)
Recovery Coach Team Lead
Recovery Coach Coordinator
Recovery Coach Supervisor
Recovery Navigator
Recovery Support Program Manager
Recovery Support Services Coordinator/Director